Editie 2019
Het ontstaan van de Zaanse Top500
Paul van den Bergh van Music Journey was in 2018 al een aantal jaren DJ/VJ en draaide op feesten vaak dezelfde soort dansmuziek. Hij gebruikte hiervoor zijn eigen database met 5000 audio- en videoclips, maar realiseerde zich al snel dat hij altijd maar 5% van zijn clips gebruikte op deze feesten. Zijn overige clips werden zelden of nooit gedraaid.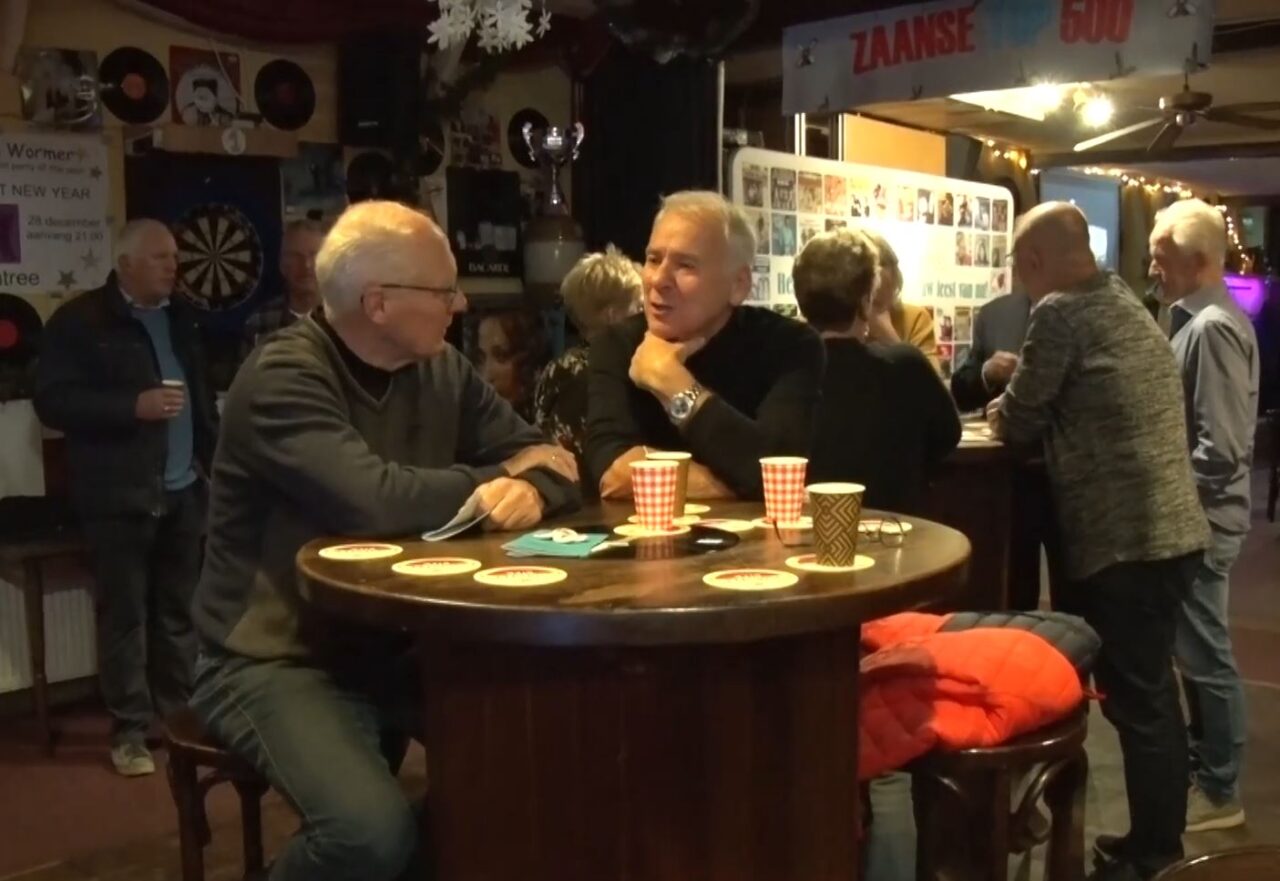 Dat is zonde en moest anders dacht hij. Hij stelde aan zijn collega DJ Jamie Bank voor om een Top500 te gaan draaien van 500 niet-reguliere dansplaten ergens op een locatie in de Zaanstreek. Jamie, die op dat moment in het bestuur van RTV Zaanstreek zat, wilde de technische ondersteuning wel voor z'n rekening nemen. Omdat ze verwachtten meer hulp nodig te hebben namen ze contact op met de drie vaste presentatoren van het zaterdagochtend programma "De Weekend Ochtendshow".
Eric, Pascha en Jerry waren direct enthousiast over het idee en wilden graag meewerken om dit idee een succes te laten worden. Direct na het eerste officiële overleg werd het ZT500-project team geformeerd en werden de taken verdeeld. Er moest een locatie gevonden worden waar het Zaanse publiek onder het genot van een kopje koffie/thee naar de 500 nummers kon komen luisteren. Daarnaast moest er een stemformulier komen om de inwoners van Zaanstad e.o. te laten stemmen op hun favoriete artiest en plaat. De uitzending in de ether kon plaatsvinden door gebruik te maken van de mobiele zendmast van RTV Zaanstreek. Ook was de uitzending te volgen via internet radio van RTV. Zo waren er tal van uitdagingen voor het team om deze eerste editie een succes te laten worden.
Ook andere RTV Zaanstreek medewerkers werden bereid gevonden om een 'handje' mee te helpen. Onder leiding van Hans Fiere werden promo's gemaakt en werden de voorbereidingen op camera vastgelegd. Ook bezocht hij Zaanse artiesten als Wolter Kroes en Margriet Eshuijs, die bereid waren hun steentje bij te dragen. Beide artiesten waren dan ook aanwezig om een popquiz te spelen tegen een andere artiest of iemand uit het publiek. Er waren ook artiesten die zelf filmpjes maakten om hun eigen nummers te promoten.
Snel scrollen naar:
Nummer 1 t/m 100
| Nr. | Artiest – Titel |
| --- | --- |
| 1 | Lucifer – House For Sale |
| 2 | George Baker Selection – Little Green Bag |
| 3 | André Hazes Jr. – Leef |
| 4 | Roberto Jacketti & The Scooters – I Save The Day |
| 5 | Wolter Kroes – Viva Hollandia |
| 6 | Queen – I Want To Break Free |
| 7 | Wham – Last Christmas |
| 8 | Jeroen Conijn – Westzaan |
| 9 | Dr. Alban – It's My Life |
| 10 | Daddy Yankee – Dura |
| 11 | Margriet Eshuijs – Black Pearl |
| 12 | Billy Joel – Piano Man |
| 13 | Boudewijn de Groot – Avond |
| 14 | De Dijk – Mag Het Licht Uit |
| 15 | Marlen – The King |
| 16 | OneM!ke – Boem Boem |
| 17 | Jeroen Conijn – Rudolf En De Rest |
| 18 | Armin, Davina, Marco – Hoe Het Danst |
| 19 | Tino Martin – Zij Weet Het |
| 20 | Danny Vera – Roller Coaster |
| 21 | Marlen – Cry |
| 22 | U2 – With Or Without You |
| 23 | Margriet Eshuijs – God Is Asleep |
| 24 | De Dijk – Dansen Op De Vulkaan |
| 25 | Prince – Purple Rain |
| 26 | Drukwerk – Je Loog Tegen Mij |
| 27 | Jerney Kate – Home |
| 28 | Queen & David Bowie – Under pressure |
| 29 | Nadia Anne – Because |
| 30 | De Dijk – Ik Kan Het Niet Alleen |
| 31 | Tina Turner – Proud Mary |
| 32 | André Hazes – De Vlieger |
| 33 | Van Halen – Jump |
| 34 | Nadia Anne – I'll Be Outside |
| 35 | Guus Meeuwis – Brabant |
| 36 | Rolling Stones – Angie |
| 37 | Eagles – Hotel California |
| 38 | Mind The Mill – Lovers & Cruisers |
| 39 | De Dijk – Als Ze Er Niet Is |
| 40 | Mind The Mill – September Flower |
| 41 | Frans Halsema & Jenny Arean – Vluchten Kan Niet Meer |
| 42 | André Hazes – Kleine Jongen |
| 43 | Dizzy Man's Band – The Show |
| 44 | OneM!ke – Het Is Vanavond Feest |
| 45 | Davina Michelle – Duurt Te Lang |
| 46 | De Dijk – Binnen Zonder Kloppen |
| 47 | BLØF – Zoutelande |
| 48 | Jerney Kate – Moving On |
| 49 | Billie Eilish – Bad Guy |
| 50 | Doors – Riders On The Storm |
| 51 | Queen – Who Wants To Live Forever |
| 52 | Wolter Kroes – Het Seizoen Van Ons |
| 53 | Tina Turner – The Best |
| 54 | Maarten Peters en Margriet Eshuijs – Dichter Bij De Hemel Kom Ik Niet |
| 55 | Marlen – Marie |
| 56 | De Dijk – Groot Hart |
| 57 | Claudia de Breij – Mag ik dan bij jou |
| 58 | ABBA – Slipping Through My Fingers |
| 59 | Beatles – Here, There and Everywhere |
| 60 | Outlandish – Warrior/Worrier |
| 61 | Suzan en Freek – Als Het Avond Is |
| 62 | Eric Clapton – Wonderful Tonight |
| 63 | Ed Sheeran & Andrea Bocelli – Perfect |
| 64 | Family Of The Year – Hero |
| 65 | André Hazes – Bloed, Zweet en Tranen |
| 66 | Trammps – Disco Inferno |
| 67 | Mind The Mill – Parallel |
| 68 | Europe – The Final Countdown |
| 69 | Marlen – The Carousel |
| 70 | George Michael – Careless Whisper |
| 71 | Queen – You're My Best Friend |
| 72 | Marlen – Music wonderland |
| 73 | Toots Thielemans – La Mamma |
| 74 | Golden Earring – Radar Love |
| 75 | Justin Bieber – Life Is A Rollercoaster |
| 76 | Nielson – Beauty & The Brains |
| 77 | Bruce Springsteen – Jersey Girl |
| 78 | Michael Jackson – Beat It |
| 79 | U2 – One Tree Hill |
| 80 | Kings Of Leon – Sex On Fire |
| 81 | Wolter Kroes – Ik Heb De Hele Nacht Liggen Dromen |
| 82 | Dire Straits – Walk Of Life |
| 83 | Elvis Presley – In The Ghetto |
| 84 | Doris D & The Pins – Shine up |
| 85 | Rolling Stones – Angie |
| 86 | Nadia Anne – Cartoon |
| 87 | OneM!ke – Dos cervesas |
| 88 | Skunk Anansie – Weak |
| 89 | Erasure – Sometimes |
| 90 | KT Unstall – Suddenly I See |
| 91 | Meat Loaf – Bat Out of Hell |
| 92 | Blondie – Rapture |
| 93 | Sting – If You Love Somebody Set Them Free |
| 94 | Proclaimers – 500 Miles |
| 95 | ABBA – Waterloo |
| 96 | Kane – Let It Be |
| 97 | AC/DC – Thunderstruck |
| 98 | Elvis Presley – Hound Dog |
| 99 | David Bowie – Rebel Rebel |
| 100 | Bee Gees – Don't Forget To Remember Me |
Nummer 101 t/m 200
| Nr. | Artiest – Titel |
| --- | --- |
| 101 | Studio Killers – Ode To The Bouncer |
| 102 | Dimitri van Toren – Hé Kom Aan |
| 103 | Dizzy Man's band – The Opera |
| 104 | Novastar – Making Waves |
| 105 | Genesis – Jesus He Knows Me |
| 106 | Led zeppelin – Stairway To Heaven |
| 107 | De Poema's – Mijn houten hart |
| 108 | Robert Cray band – Right Next Door |
| 109 | Barry White – You're The First, The Last, My Everything |
| 110 | Rammstein – Mutter |
| 111 | Maarten Peters en Margriet Eshuijs – Wild Horses On The Snow |
| 112 | Tim Hardin – Reason To Believe |
| 113 | Rolling Stones – It's all Over Now |
| 114 | Miami Sound Machine – Dr. Beat |
| 115 | Simon & Carfunkel – Bridge Over Troubled Water |
| 116 | Caro Emerald – A Night Like This |
| 117 | Yvonne Elliman – I Don't Know How To Love Him |
| 118 | Madness – One Step Beyond |
| 119 | Living in a box – Living In A Box |
| 120 | Rob de Nijs – Foto Van Vroeger |
| 121 | Madonna – Beautiful Stranger |
| 122 | Nathaniel Rateliff & The Night Sweats – Howling At Nothing – Live |
| 123 | Frans Bauer – Heb Je Even Voor Mij |
| 124 | Neil Diamond – Love On The Rocks |
| 125 | Housemartins – Caravan Of Love |
| 126 | Stealers Wheel – Late Again |
| 127 | Lynyrd Skynyrd – Sweet Home Alabama |
| 128 | Jon Bellion – Morning In America |
| 129 | U2 – One |
| 130 | A-ha – Take On Me |
| 131 | Michael Jackson – Dirty Diana |
| 132 | Marvin Gaye – Sexual Healing |
| 133 | Ruth Jacott, Marco Borsato & Rene Froger – You've Got A Friend |
| 134 | Blues Brothers – Everybody Needs Somebody |
| 135 | Gloria Gaynor – I Will Survive |
| 136 | Opus – Life Is Life |
| 137 | Earth, Wind & Fire – Fantasy |
| 138 | Stevie Wonder – Superstition |
| 139 | Who – See Me, Feel Me |
| 140 | Jose Y Los Reyes – Lailola |
| 141 | U2 – Where The Streets Have No Name |
| 142 | Iron Maiden – The Number Of The Beast |
| 143 | Marco Borsato – Voorbij |
| 144 | Dire Straits – Why Worry |
| 145 | Imagine Dragons – Thunder |
| 146 | Frank Boeijen Groep – De Ontmoeting |
| 147 | SYML – Wildfire |
| 148 | Benjamin van de Logt – Voor Haar |
| 149 | Tony Scott – The Chief |
| 150 | Alvaro Soler – Sofia |
| 151 | Cats – Lea |
| 152 | Bruno Mars – 24K Magic |
| 153 | Veldhuis & Kemper – Ik Wou Dat Ik Jou Was |
| 154 | Peter Frampton – Show Me The Way |
| 155 | Ike & Tina Turner – River Deep, Mountain High |
| 156 | Herman Brood – Saturday Night |
| 157 | Beatles – Ticket To Ride |
| 158 | Nits – Nescio |
| 159 | George Michael – Waiting For That Day |
| 160 | George Baker Selection – Song Of Love |
| 161 | Ramses Shaffy en Liesbeth List – Pastorale |
| 162 | Boudewijn de Groot – Verdronken Vlinder |
| 163 | Vader Abraham – Smurfenlied |
| 164 | Doe Maar – 32 jaar (Sinds 1 dag of 2) |
| 165 | Louis Armstrong – Hello Dolly |
| 166 | Nadia Anne – The Day I Open My Eyes |
| 167 | U2 – Sunday, Bloody Sunday (Live) |
| 168 | Simple Minds – New Gold dream |
| 169 | Johnny Cash – Ring Of Fire |
| 170 | Pasadenas – Tribute (Right On) |
| 171 | Them – Gloria |
| 172 | Pearl Jam – Alive |
| 173 | Cats – One Way Wind |
| 174 | Marco Borsato – Zij |
| 175 | Bruce Springsteen – The River |
| 176 | Opposites – Brief Aan Jou |
| 177 | Police – Roxanne |
| 178 | Kensington – Do I Ever |
| 179 | Kodaline – High Hopes |
| 180 | Bette Middler – The Rose |
| 181 | Babys – Everytime I Think Of You |
| 182 | Linkin Park – Numb |
| 183 | Byrds – Turn! Turn! Turn! |
| 184 | Chainsmokers – Something Just Like This |
| 185 | Harry Styles – Sign Of The times |
| 186 | Vitesse – Rosalyn |
| 187 | Rolling Stones – Paint It Black |
| 188 | Freddy Mercury – Living on my own |
| 189 | Nick en Simon – Pak Maar Mijn Hand |
| 190 | Simply Red – The Right Thing |
| 191 | Vance Joy – Riptide |
| 192 | De Dijk – Lieve Lach |
| 193 | Nielson – Sexy als ik dans |
| 194 | George Michael – Somebody To Love |
| 195 | Julio Iglesias – Amor |
| 196 | Queen – Innuendo |
| 197 | Status Quo – Down Down |
| 198 | Frans Halsema – Onder De Wollen Deken |
| 199 | Glenn de Koning – Eentje Moet Kunnen |
| 200 | Miley Cyrus – Wrecking Ball |
Nummer 201 t/m 300
| Nr. | Artiest – Titel |
| --- | --- |
| 201 | Uriah Heep – Easy Livin' |
| 202 | Housemartins – Happy Hour |
| 203 | Golden Earring – When The Lady Smiles |
| 204 | Lee Towers – New York, New York |
| 205 | Wesley Bronkhorst – Jij Moet Nu Goed Zo Met Me Doorgaan |
| 206 | Bruce Springsteen – Atlantic City |
| 207 | Golden Earrings – That Day |
| 208 | Beatles – Norwegian Wood |
| 209 | Alessandro Diaz – Una Noche |
| 210 | Cascada – Evacuate The Dancefloor |
| 211 | De Dijk – Bloedend Hart |
| 212 | Benjamin van de Logt – Lieveling |
| 213 | Queen – The Show Must Go On |
| 214 | Nail Horn – This Town |
| 215 | Swing Out Sister – Breakout |
| 216 | Cats – Why |
| 217 | Steve Miller Band – Fly Like An Eagle |
| 218 | U2 & Mary J. Blige – One |
| 219 | Frank Boeijen Groep – Ze Geeft Om Mij |
| 220 | Dr. John – Locked Down |
| 221 | Mai Tai – Am I Losing You Forever |
| 222 | Brainbox – Down Man |
| 223 | Colplay – Clocks |
| 224 | Pink – Raise Your Glass |
| 225 | Wolter Kroes – Mag Ik Je Knuffelbeer Zijn |
| 226 | Men Without Hats – The Safety Dance |
| 227 | Reniet Vrieze en Marjolein Koning – It's Cold Outside |
| 228 | Mind The Mill – Broke My Promise |
| 229 | Freek de Jonge – Er Is Leven Na De Dood |
| 230 | Simon & Garfunkel – The Boxer |
| 231 | Metallica – Nothing Else Matter |
| 232 | Gavin DeGraw – Chariot |
| 233 | Outsiders – Lying All The Time |
| 234 | Bloem – Even Aan Mijn Moeder Vragen |
| 235 | Rob de Nijs – Banger Hart |
| 236 | Jeroen Conijn – De Watertoren |
| 237 | Joe Ely – Windmills And Watertanks |
| 238 | Prodigy – Voodoo people |
| 239 | Crosby, Stills & Nash – Judy Blue Eyes |
| 240 | Disturbed – Sound Of Silence |
| 241 | Neerlands Hoop In Bange Dagen – Elsje |
| 242 | Bruce Springsteen – I'm on fire |
| 243 | Spooky & Sue – You Talk Too Mucch |
| 244 | Pink Floyd – Wish You Were Here |
| 245 | Sturgill Simpson – Last Man Standing |
| 246 | Ed Sheeran – Castle On The Hill |
| 247 | Queen – We Are The Champions |
| 248 | Frank Boeijen Groep – Linda |
| 249 | Gipsy Kings – Volare |
| 250 | Armin van Buuren – Sunny Days |
| 251 | Frank Boeijen Groep – Zeg Me Dat Het Niet Zo Is |
| 252 | Adam Lambert – Ghost Town |
| 253 | Waylon – Love Drunk |
| 254 | De Dijk – Ik Krijg Je Maar Niet Uit Mijn Kop |
| 255 | Aretha Franklin – Respect |
| 256 | Mind The Mill – Summer is over |
| 257 | Elvis Presley – Such A Night |
| 258 | Prodigy – Firestarter |
| 259 | Dire Straits – Sultans Of Swing |
| 260 | Piet Veerman – Sailing Home |
| 261 | X Ambassadors – Renegades |
| 262 | Bon Jovi – Bed Of Roses |
| 263 | Nick en Simon – De Soldaat |
| 264 | Tol Hansse – Big City |
| 265 | Golden Earring – Mad Love Is Coming |
| 266 | Kim Wilde – You Keep Me Hanging On |
| 267 | Doors – The Unknown Soldier |
| 268 | Candy Dulfer – Lily Was Here |
| 269 | Muse – Super Massive Black Hole |
| 270 | James Blunt – 1973 |
| 271 | Bruce Springsteen – My Hometown |
| 272 | André Hazes Jr. – Leef Je Leven |
| 273 | Southside Johnny – Walk Away Renee |
| 274 | Jason Isbell – Hurricanes And Hand Grenades |
| 275 | Prodigy – Smack My Bitch Up |
| 276 | Keane – Silenced By The Night |
| 277 | Nits – In The Dutch Mountains |
| 278 | Bruce Springsteen – Human Touch |
| 279 | Script – Rain |
| 280 | Daniel Norgren – Poor Hearts Avenue |
| 281 | Mind The Mill – Comfort Zone |
| 282 | Frankie Goes To Hollywood – Relax |
| 283 | Leonard Cohen – Suzanne |
| 284 | Talk Talk – Such A Shame |
| 285 | ABBA – Voulez-Vous |
| 286 | Passenger – Riding To New York |
| 287 | Uriah Heep – Tears In My Eyes |
| 288 | Ali B – Ik huil alleen bij jou |
| 289 | Duran Duran – The Wild Boys |
| 290 | Neil Diamond – Remember Me |
| 291 | Acda en De Munnik – Ren Lenny Ren |
| 292 | Golden Earring – Back Home |
| 293 | Suzan & Freek – Blauwe Dag |
| 294 | Il Divo – The Power Of Love |
| 295 | Cure – Close To Me |
| 296 | VOF De Kunst – Eén Kopje Koffie |
| 297 | Lukas Graham – 7 Years |
| 298 | Bonnie St. Claire – Dr. Bernhard |
| 299 | David Bowie – Heroes |
| 300 | Hollies – The Day That Curly Billy Shoot Down Crazy Sam McGee |
Nummer 301 t/m 400
| Nr. | Artiest – Titel |
| --- | --- |
| 301 | Falco – Jeanny |
| 302 | James Blunt – Monsters |
| 303 | Marlen – The End |
| 304 | Guy Sebastian – Before I Go |
| 305 | Adele – Skyfall |
| 306 | R.E.M. – It's The End Of The World As We Know It |
| 307 | Arcade Fire – Everything Now |
| 308 | Pilgrims – Flamingo |
| 309 | James Blake – Limit To My Love |
| 310 | Herman van Veen – Hilversum 3 |
| 311 | Gipsy Kings – Habla Me |
| 312 | Elton John – Your Song |
| 313 | Status Quo – Whatever You Want |
| 314 | John Mayer – In The Blood |
| 315 | Peter Sarstedt – Where Do You Go To My Lovely |
| 316 | C.C.R. – Bad Moon Rising |
| 317 | Avici – Wake me up |
| 318 | Tante Leen – Oh Johnny |
| 319 | Bruce Springsteen – Blood Brothers |
| 320 | John Farnhamm – You're The Voice |
| 321 | De Kast – Niets te Verliezen |
| 322 | Mikis Theodorakis – Zorba Dance Sirtaki |
| 323 | Queen – I Want It All |
| 324 | Eagles – Take It To The Limit |
| 325 | Snollebollekes – Van Links Naar Rechts |
| 326 | Martin Solveig – Hello |
| 327 | Trijntje Oosterhuis en Yosina Rumajauw – Ken je mij |
| 328 | Astrid Nijgh – Ik Doe Wat Ik Doe |
| 329 | Jeroen van der Boom – Mag Ik Dan Bij Jou |
| 330 | Herman van Veen – Hé Kleine Meid, Op Je Kinderfiets |
| 331 | BLØF – Holiday In Spain |
| 332 | Maaike Ouboter – Dat Ik Je Mis |
| 333 | Raven Ravenscroft – Maxine |
| 334 | Rammstein – Engel |
| 335 | Who – My Generation |
| 336 | George Baker Selection – Dear Ann |
| 337 | Goo Goo Dolls – Iris |
| 338 | Rolling Stones – Wild Horses |
| 339 | Jerney Kate – Dreams Of Yesterday |
| 340 | Ben Cramer – De Clown |
| 341 | Paul Elstak – Rainbow In The Sky |
| 342 | Jimi Hendrix – All Along The WatchTower |
| 343 | Adele – When We Were Young |
| 344 | Metallica – Enter Sandman |
| 345 | Nielson – Nachtdienst |
| 346 | Ruben Hoeke band – High On The Bottle |
| 347 | Pink Floyd – Comfortably Numb |
| 348 | Roger Glover & Guest – Love Is All |
| 349 | Poema's – Houten Hart |
| 350 | Alessandro – Una Chica Especial |
| 351 | Jackie Wilson – I Get The Sweetest Feeling |
| 352 | U2 – New Years Day |
| 353 | Beth Hart – LA Song |
| 354 | Verve – Bitter Sweet Symphony |
| 355 | Paul Simon – You Can Call Me Al |
| 356 | Queen – Another One Bites The Dust |
| 357 | Queen – Bohemian Rhapsody |
| 358 | George Baker Selection – Una Paloma Blanca |
| 359 | Muse – Uprising |
| 360 | National – Day I Die |
| 361 | John Denver – Perhaps Love |
| 362 | Surfers – Windsurfing |
| 363 | Tom Odell – Another Love |
| 364 | Seal – Crazy |
| 365 | Cars – Drive |
| 366 | Eminem – The Real Slim Shady |
| 367 | Maroon 5 – Memories |
| 368 | Boudewijn de Groot – Testament |
| 369 | Hoobastank – The Reason |
| 370 | Clouseau – Afscheid Van Een Vriend |
| 371 | KC & The Sunshine Band – Give it up |
| 372 | Jan Smit – Hoe Kan Ik Van Je Dromen |
| 373 | John Miles – Music |
| 374 | Guus Meeuwis – Het Is Een Nacht |
| 375 | Wolter Kroes – Laat Me Los |
| 376 | Coldplay – Fix You |
| 377 | Pearl Jam – Even Flow |
| 378 | Billy Joel – Goodnight Saigon |
| 379 | Elly en Rikkert – De Kauwgomballenboom |
| 380 | Miami Sound Machine – Conga |
| 381 | Daddy Long Legs – Motorcycle Madness – Live |
| 382 | Fleetwood Mac – Albatross |
| 383 | BLØF – Omarm |
| 384 | Script – Never Seen Anything Quite Like You |
| 385 | George Michael – Don 't Let The Sun Go Down |
| 386 | Shooter Jennings – Manifesto No. 1 |
| 387 | Steve Winwood – Valerie |
| 388 | De Kast – Woorden Zonder Woorden |
| 389 | Katty Perry – Dark Horse |
| 390 | Alessandro – Sueño |
| 391 | Platters – Smoke Gets In Your Eyes |
| 392 | Justin Timberlake – Sexyback |
| 393 | James Brown – It's a Man's Man's Man's World |
| 394 | Lionel Richie – Do It To Me |
| 395 | Gerry & the Pacemakers – You'll Never Walk Alone |
| 396 | Scene – Blauw |
| 397 | Milk Inc – Walk On Water |
| 398 | Lucifer – Self Pity |
| 399 | Marco Borsato – Dochters |
| 400 | Rowwen Hèze – De Neus Umhoeg |
Nummer 401 t/m 500
| Nr. | Artiest – Titel |
| --- | --- |
| 401 | Glennis Grace – Afscheid |
| 402 | Wolter Kroes – We Gaan Nog Even Door |
| 403 | Eagles – The Last Resort |
| 404 | Antonie Kamerling – Hero |
| 405 | Bon Jovi – Wanted Dead Or Alive |
| 406 | Earth & Fire – Wild And Exciting |
| 407 | Emma Heesters en Rolf Sanchez – Pa Olvidarte |
| 408 | Alice Cooper – Halo Of Flies |
| 409 | De Dijk – Wat Een Vrouw |
| 410 | Paul de Leeuw en Simone Kleinsma – Zonder jou |
| 411 | Stevie Wonder – I Wish |
| 412 | Mama's & Papa's – California Dreamin' |
| 413 | Tiësto – Traffic |
| 414 | Twenty One Pilots – Goner |
| 415 | Etta James – I've Been Loving You Too Long |
| 416 | Boz Scaggs – Loan me a dime |
| 417 | Willy & Willeke Alberti – Niemand Laat Zijn Eigen Kind Alleen |
| 418 | Lady Gaga & Bradley Cooper – Shallow |
| 419 | Tina Turner – Private Dancer |
| 420 | Script – Breakeven |
| 421 | Queen – Somebody To Love |
| 422 | Fleetwood Mac – The Chain |
| 423 | Frank Boeijen Groep – Op Zoek Naar De Verloren Tijd |
| 424 | Jim Croce – I'll Have To Say I Love You In A Song |
| 425 | Madonna – Frozen |
| 426 | Jerney Kate – Time |
| 427 | Rolling Stones – Gimme Shelter |
| 428 | Laura Branigan – Self Control |
| 429 | Buena Vista Social Club – Chan Chan |
| 430 | Elton John – Goodbye Yellow Brick Road |
| 431 | Alessandro – Fuego |
| 432 | Live – We Deal In Dreams |
| 433 | Etta james – I'd Rather Go Blind |
| 434 | Ruben Annink – Wie Ze Was |
| 435 | Krezip – I Would Stay |
| 436 | Cliff Richard & The Young Ones – Living Doll |
| 437 | Maywood – Mother How Are You Today |
| 438 | Crosby, Stills, Nash & Young – Teach Your Children |
| 439 | Davito & Jeannine La Rose – Lambada Sensual |
| 440 | Mika – Relax |
| 441 | Guns N' Roses – Sweet Child o' Mine |
| 442 | Panic! at the disco – High Hopes |
| 443 | Matt Simons – With You |
| 444 | Madonna – Like A Virgin |
| 445 | Lou Reed – Perfect Day |
| 446 | Wulf – Mind Made Up |
| 447 | Smash Mouth – All Star |
| 448 | De Dijk – Wakker In Een Vreemde Wereld |
| 449 | Radiohead – Karma Police |
| 450 | Phil Collins – Against All Odds |
| 451 | Klein Orkest – Over De Muur |
| 452 | Ilse de Lange – World Of Hurt |
| 453 | C.C.R. – I Put A Spell On You |
| 454 | Passenger – Let Her Go |
| 455 | Queen – Radio Ga Ga |
| 456 | Frank Boeijen Groep – De Verzoening |
| 457 | Ella John & ZC Alliance – 420 |
| 458 | Chuck Berry – Johnny B. Goode |
| 459 | Lewis Capaldi – Before You Go |
| 460 | Josh Groban – You Raise Me Up |
| 461 | Omar And The Howlers – Hoo Doo |
| 462 | Roberto Jacketti & The Scooters – Arrivederci |
| 463 | Dean lewis – Half A Man |
| 464 | Foreigner – I Wanna Know What Love Is |
| 465 | Mr. Probz – Nothing Rally Matters |
| 466 | Frankie Goes to Hollywood – The Power Of Love |
| 467 | Simple Minds & Peter Gabriel – Biko |
| 468 | Duncan Laurence – Arcade |
| 469 | Marco Borsato – Speeltuin (live versie in de Kuip) |
| 470 | John Farnham – You're The Voice |
| 471 | Fleetwood Mac – Dreams |
| 472 | Pink Floyd – Mother |
| 473 | Vitesse – Good Lookin' |
| 474 | Gavin James – Glow |
| 475 | Margriet Eshuijs – Joe And Jerry |
| 476 | Rick Lorenzo Dros – Wilhelminabrug (Zaandam) |
| 477 | Clouseau – Passie |
| 478 | Jeff Buckley – Mojo Pin |
| 479 | Danny de Munk – Hart En Ziel |
| 480 | Otis Redding – I've Got Dreams To Remember |
| 481 | Jefferson Airplane – White Rabbit |
| 482 | Leaf – Wonderwoman |
| 483 | Koos Alberts – Ik Verscheurde Je foto |
| 484 | Nick en Simon – Ode Aan De Vrouw |
| 485 | Rod Stewart – Maggie May |
| 486 | Leonard Cohen – Hallelujah |
| 487 | Animals – House Of The Rising Sun |
| 488 | Def Leppard – Hysteria |
| 489 | De Dijk – Niemand In De Stad |
| 490 | Vreemde Kostgangers – Touwtje Uit De Deur |
| 491 | Madonna – Don't Cry For Me Argentina |
| 492 | Simplistisch Verbond – Zoek Jezelf |
| 493 | Cure – Friday I Am In Love |
| 494 | De Dijk – Uitzicht |
| 495 | Alessandro – Bewegen |
| 496 | R.E.M. – Nightswimming |
| 497 | Vanice – The Family Tree |
| 498 | Wim Sonneveld – Het dorp |
| 499 | R.E.M. – Everybody Hurts |
| 500 | Rory Gallagher – A Million Miles Away |